Description
About this product :
This Christmas thief Hand is stealing your ornaments, perfect for anyone who loves it, or is looking for something a little more unique in their Christmas decor!
This Christmas thief is stealing your decorations. The hand of the Grinch Christmas thief can be placed over the fireplace, at the door or anywhere your creative mind can think of.
Made of PVC. Customized by hand. You can get to the left or right. Please order the direction you like.
Enhance Christmas Atmosphere: The Christmas thief stretches out a small hand to steal things in the dark. The pendant adds a sense of Christmas mystery.
Suitable for Many Occasions: Large-scale Christmas Thanksgiving, themed party decorations for indoor, home, party, wall, front door, living room, bedroom, window, Christmas tree, etc. It is the perfect gift for family and friends.

Product Size;  5.91x7.87 in 
Package includes: 1 Christmas thief hand decoration.
Size: about 15x20cm/5.91x7.87
Weight: about 37g
Specifications: left hand, right hand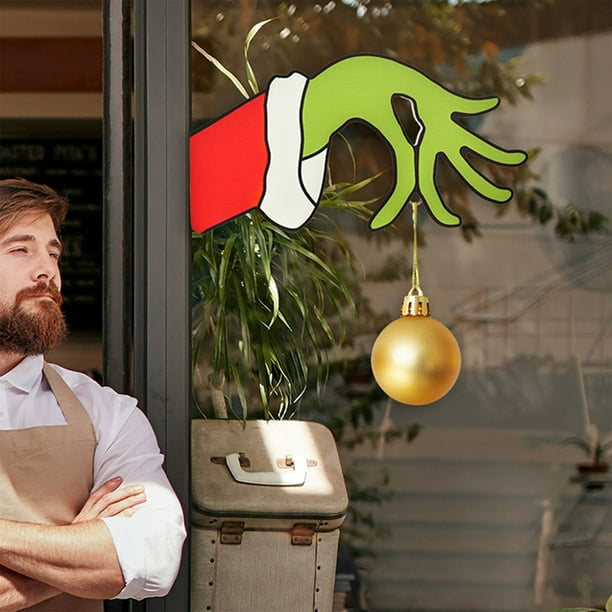 Perfect for Christmas decoration
Atmosphere- Christmas thief stretches out his hand in the dark to steal your things. The pendant adds a sense of Christmas mystery. You can decorate it as you like.
Holiday decoration- Lively and interesting Christmas decorations that are indispensable for Christmas. If you are looking for novel and interesting gifts, then this Christmas thief is very suitable for you.
Many occasions- The hand of the Christmas thief can be placed on the fireplace, at the door or anywhere your creative mind can think of, to decorate your room and create a happy holiday atmosphere.
Perfect gift- A great complement to Christmas trees, Christmas tree branches, fireplaces, Christmas decorations, plants or the outdoors. It can also be given to your friends or family as a holiday gift.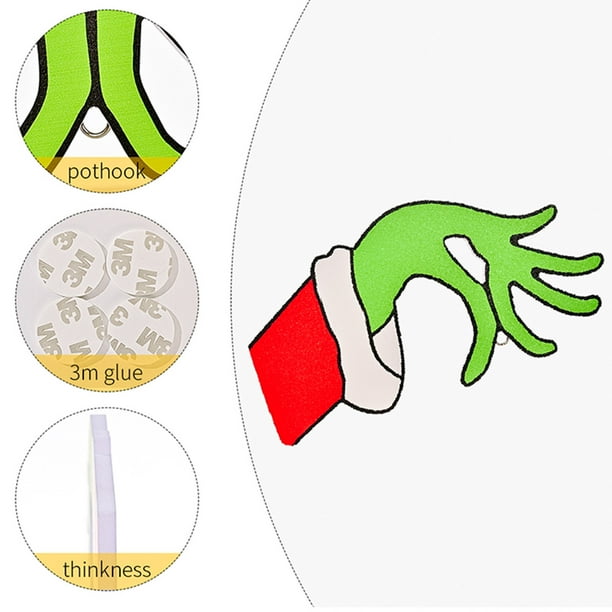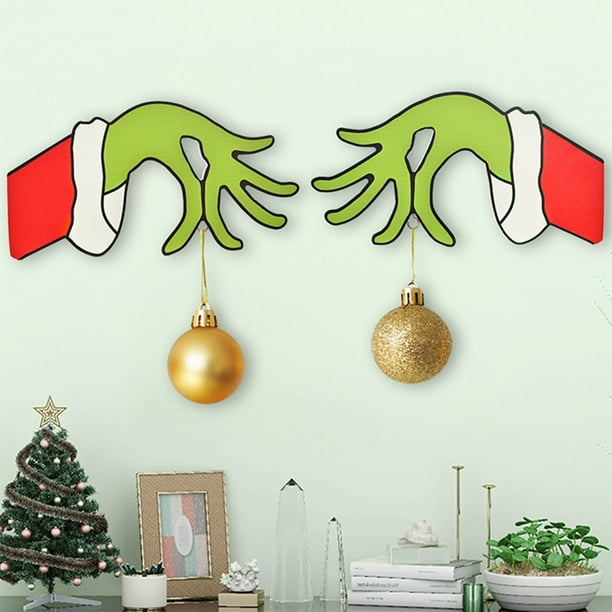 Note :
1. Please remember that due to the lighting effects, the monitor's brightness / contrast settings / etc. there will be some slight differences in the color of the pictures and the actual items. Measured by hand, deviations of 1-2 cm are possible.
2. Please leave us a message if you have any questions.
COVID-19 POLICY UPDATE
We are an online home & Décor store, and we are taking important measures about handling and fulfillment of our products to our customers.
Our measures include but are not limited to :
Sanitizing and cleaning these items before shipping
Protecting and sealing our items from external exposure.
And more importantly wearing masks and social distancing in the case of local delivery. 
Shipping policy
Q: How long before my product ships?
A: It will take 6-8  business days for your product to ship.
Q: What is the estimated delivery date (ETA)?
A: Depending on your locations, delivery may take between 10 and 30 days ( 6-10 days Handling Time + 8-20 days Shipping Time ). Please rest assured that we will send your tracking number to you as soon as it is shipped.
ATTN :   Due to the current situation of the pandemic, you should expect                           eventual delays related to the transit time. 
Q: How do I return and replace my item?
A: We strongly believe in the quality of our products. We therefore offer a 30-day risk-free money-back guarantee (return shipping charges excluded).
If for some reason you are not satisfied with your product, simply send it back to us and we will refund your money or exchange your product (the decision is yours), up to 30 days, no questions asked .
Please contact us by email at Info@signaturewarehouse.com first and we will provide you with the appropriate return shipping address.
⚠️ Please note that the return / exchange costs are your responsibility. We will not provide a return shipping label.
⚠️ Please also note that any return sent to us without first contacting our customer service will not be accepted.
Q: Where is my order confirmation?
A: The order confirmation email is sent to your email within 24 hours of payment. Please try to check your spam emails or trash as it may also be found there.
Q: What if I want to cancel my order?
A: Most of items processed within 6-8 hours. If you want to cancel your order for any reason, please email us at Info@signaturewarehouse.com within 24 hours.
Q: What if I still need help?
A: That's what we're here for. Contact us by e-mail at Info@signaturewarehouse.com
Privacy Policy
SIGNATURE WAREHOUSE PRIVACY POLICY
Last updated December 2, 2021
Users' privacy is important to Signature Warehouse ("we," "us," or "our"), and we take it very seriously. As a visitor to our website, https://signaturewarehouse.com/ agree to the terms and conditions of this Privacy Policy, which explains how we collect, use, disclose and secure your personal information. If you have any questions or concerns, please review this privacy statement. Do not use this site if you do not agree with the terms of this privacy policy.
Any modifications to this Privacy Policy may be made at any time and for any reason. If this Privacy Policy's "Last Updated" date changes, we'll let you know. It is your responsibility to review the Privacy Policy on a regular basis to ensure that you are aware of any changes or amendments to the Policy.
You should review our Privacy Policy on a regular basis to remain up to speed on any changes. By continuing to use the Site after the date the amended Privacy Policy is posted, you are assumed to be aware of, subject to, and have accepted the changes in the revised Privacy Policy.
COLLECTION OF YOUR INFORMATION
In a variety of methods, we may obtain information about you from you. We may gather the following types of information:
When you register with the Site or participate in various activities related to the Site, such as online chat and message boards, you voluntarily provide us with personally identifiable information, such as your name, shipping address, email address, and telephone number, as well as demographic information, such as your age, gender, hometown, and interests. However, if you do not give us with any personal information, you may not be able to use any of the Site's services.
Our servers automatically collect information such your IP address, your browser type, your operating system, your access times, and the pages you have seen just before and after accessing the Site.
When you purchase, order, return, exchange, or seek information about our services via the Site, we may collect financial information, such as data linked to your payment method (e.g. valid credit card number, card brand, expiration date). We save only a little amount of financial data, if any at all. PayPal is our payment processor and you may study their privacy policies and contact them directly if you have any questions about how your financial information is handled by them.
Your name, your social network username, location, gender, birth date, email address, profile picture, and public data for contacts, if you choose to link your account to social networks such as Facebook, Instagram, or Twitter.
If you use the Site using a mobile device, we may collect information such as your mobile device's ID, model, and manufacturer, as well as information about where your device is located.
Connecting your account to another service and granting the site permission to access third-party data, such as personal information or network contacts, is referred to as "third-party data."
When you participate in competitions, sweepstakes, or surveys, you may be asked to provide your name, email address, and other personal information.
USE OF YOUR INFORMATION
Having accurate information about you permits us to provide you with a smooth, efficient, and customized experience.
DISCLOSURE OF YOUR INFORMATION
Your personal information is never shared with anyone else. However, we may share your personal information with third-party service providers who help us provide the Services, such as shipping, payment processing, marketing and advertising, email, text, and other communications, applications, sales, business and inventory support, photography, and website, software, platform, cloud, data storage, and other technical services. We may also share your personal information to: (1) comply with federal, state, or local laws; (2) comply with a civil, criminal, or regulatory inquiry, investigation, subpoena, or summons by federal, state, or local authorities; (3) cooperate with law enforcement agencies in the investigation of conduct or activity that we reasonably and in good faith believe may violate federal, state, or local laws; or (4) exercise or defend legal claims. We may also share non-personal information with third parties who provide and run Services on our behalf or assist us in analyzing how our Services are used, as long as the information has been deidentified or aggregated.
We are not responsible for the actions of third parties with whom you share personal or sensitive data, and we have no authority to manage or control third-party solicitations.  If you no longer wish to receive correspondence, emails or other communications from third parties, you are responsible for contacting the third party directly.
TRACKING TECHNOLOGIES
Cookies and Web Beacons
There are a number of technologies that we use on the Site to enhance your experience, including cookies, web beacons, tracking pixel, and other technologies. Tracking technology is not used to collect personal information when you visit the Site. Cookies are accepted by default in most browsers. However, you should be aware that deleting or rejecting cookies might have an impact on the Site's availability and functioning. Web beacons can't be turned off. Although cookies can be rendered useless by rejecting all cookies or updating your browser's settings to inform you each time a cookie is offered, you can accept or decline cookies on an individual basis by adjusting these options.
In order to provide you with a better online experience, we employ a variety of tracking technologies, including as cookies, web beacons, tracking pixels, and others.
You should be aware that getting a new computer, installing a new browser, upgrading an existing browser, or erasing or otherwise altering your browser's cookies files may also clear certain opt-out cookies, plug-ins, or settings.
SECURITY OF YOUR INFORMATION
Personal information is protected by administrative, technological, and physical security methods. Please be aware that, despite our best efforts, no security measures are flawless or impenetrable, and no mode of data transfer can be guaranteed against any interception or other sort of misuse. Any information that is posted online can be accessed and misused by anybody who has access to the internet. To the extent that you give us personal information, we cannot guarantee that it will be completely secure.
POLICY FOR CHILDREN
It is our policy not to intentionally collect or market to anybody under the age of 18 without their express consent. Please use the contact information below if you have any information about minors under the age of 18 that we may have acquired.
CONTROLS FOR DO-NOT-TRACK FEATURES 
If you desire to keep your online activity private, you may activate a "Do Not Track" (DNT) option or setting in most web browsers and some mobile operating systems. There is currently no standard technology for identifying and applying DNT signals. Thus, we do not respond to browser DNT signals or any other technology that automatically expresses your preference not to be followed on the Internet at this time. As soon as a new standard for online monitoring is established, we will update our Privacy Policy to reflect that change.
OPTIONS REGARDING YOUR INFORMATION
Account Information
You may access and modify your account information at any time by using the methods listed below:
Logging into your account settings and making the necessary changes
Contacting us via the methods listed below.
We will deactivate or remove your account and all associated information at your request. To prevent fraud, troubleshoot problems, aid in any investigations, enforce our Terms of Use, and/or comply with legal requirements, we may keep some information in our files for the time being.
Emails and Communications
By noting your choices when you establish an account with the Site or by logging into your account settings and changing your options, you can no longer receive correspondence, emails, or other communications from us.
You can get in touch with us by utilizing the details provided below.
You must contact the third party directly if you no longer desire to receive correspondence, emails, or other communications from them.
CONTACT US
If you have questions or comments about this Privacy Policy, please contact us at:
Signature Warehouse LLC
PO BOX 622
Lawrenceville Ga 30046
40409415818
info@signaturewarehouse.com                                                                                                                                                                                                                                                                                                                                                                                                                                                                                                                                                                                                                                                                                                                                                                                                                                                                                                                                                                                                                                           
Payment & Security
Your payment information is processed securely. We do not store credit card details nor have access to your credit card information.